Cultural Competency in Action
Of course, it's not enough to solely understand the definition. Healthcare facilities must also integrate policies that cultivate cultural respect. Some effective strategies for achieving culturally competent care and reducing health disparities include the following: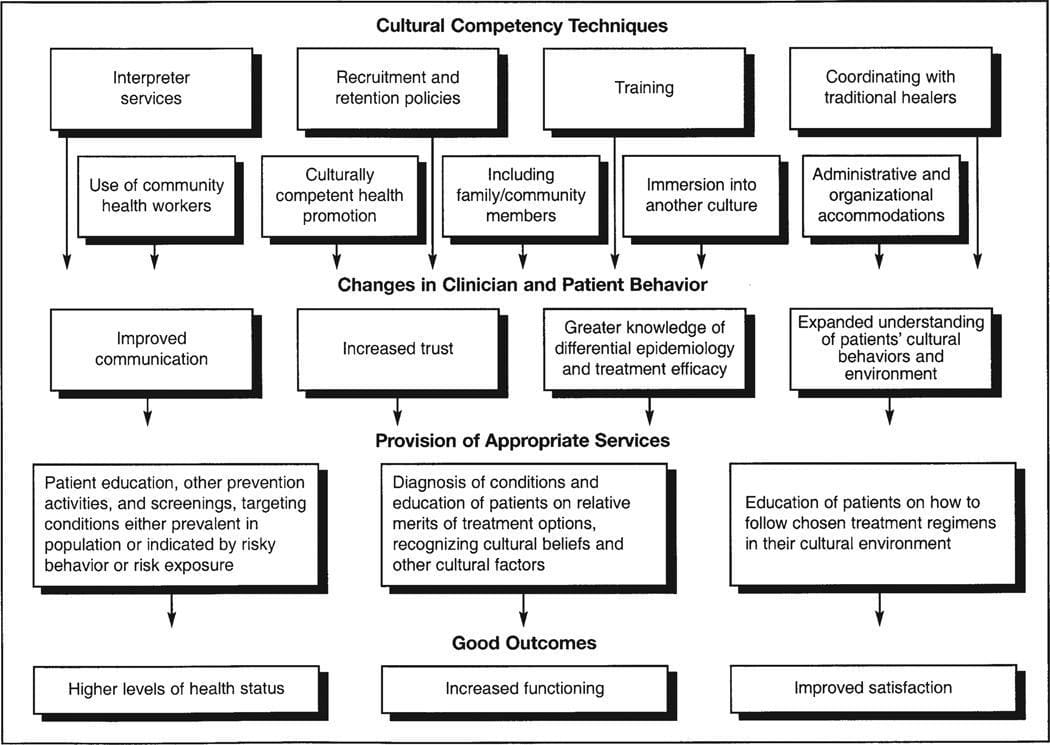 Source:Medical Care Research Review (Brach & Fraser, 2000)
Providing interpreter services
Interpreter services improve communication between patient and provider. Organizations should always test the competency of those providing language assistance and avoid using untrained or minors as interpreters. It is also helpful to supplement interpreter services with print materials and signage in languages most commonly used by the population.
Recruiting and retaining professionals with minority backgrounds
A successful recruitment strategy invites human resources and other hiring staff to present a culturally mixed set of eligible candidates. To retain a diverse workforce, an organization must incorporate cultural attitudes and messages in internal communications leading to increased trust in the workplace.
Training staff to improve cultural awareness and skills
Because each minority group is composed of subcultures, it is impossible to train employees in-depth about all cultures. A more successful approach is to educate healthcare providers on traditional beliefs and behaviors among the cultures most commonly served by that organization. Consistent training expands a staff's knowledge base so that they can provide the most culturally appropriate treatment options.
Coordinating with traditional healers
Not all cultures accept Western medicine as their primary source of healthcare. Therefore, it is necessary to understand the role of traditional healers and coordinate with them to provide adequate patient care. This allows patients to follow their treatment program within their cultural parameters, which leads to patient satisfaction and improved health.
Using community health workers
Another valuable partnership is the one with community health workers. When pulled into the process, these professionals help bridge communication between health professionals and patients from underserved communities. Their role results in improved patient education and health outcomes.
Incorporating culture-specific attitudes in health promotion
Before implementing health-promoting programs, organizations must acknowledge any existing imbalance between minority groups. If one group is more at risk of a particular health concern, that should be addressed and presented from that specific cultural perspective. This helps the health institution establish credibility among the minority population.
Including family and community members in healthcare decision-making
Involving family and community members in healthcare issues builds trust and breaks down disparities between cultural groups. This can be accomplished with something as simple as an advisory committee. For optimal results, these committee members should represent a diverse set of values and perspectives.
Expanding services into culturally dense cities and towns
The health status of minority groups will never improve if services are not accessible to these patients. Therefore, healthcare providers must invest their time and resources into underserved communities, where their care is missing most. This will likely require select skill sets to overcome poor health literacy.
Establishing linguistic competency among administrative and operational staff
A routine doctor's visit involves much more than interacting with the healthcare provider. Staff in billing, medical records, and human resources are all key players in the healthcare experience. Through cultural training and interpreter services, staff members can provide much more attentive care. As a result, the patient walks away satisfied with the entire healthcare team.