21 Trends for Nurse Practitioners
In 2015, nurse practitioners celebrated their 50th anniversary, the Affordable Care Act turned five, and the healthcare technology industry continued to boom. Healthcare providers are on the frontlines of immense innovation and growth. Nurse practitioners welcome great change in the form of skyrocketing salaries and increased autonomy. Healthcare reform, while still in its infancy, is turning arcane delivery philosophies into unprecedented care models that improve outcomes, increase efficiency, and reduce costs. The medical technology industry, now worth billions of dollars, continues to develop ever-shocking inventions that were in the realm of science fiction only a few years ago.
The purpose of this blog post is to explore 21 health care trends to watch for that impact nurse practitioners, healthcare reform, and of course, health technology.
Nurse Practitioner Issues
Changing Demographics
Traditionally, the nursing profession has been filled with middle-aged Caucasian females; however, over the past two decades, these demographics have begun to shift. According to the National Sample Survey of Registered Nurses, recent nurse graduates are more educated, more ethnically diverse, and younger. More men are entering the profession than ever before: prior to 2001, only 6% of nursing graduates were male compared with 10% today. Also, more than 40% of nurse anesthetists are male.
New graduates are also more likely than previous generations to choose non-clinical nursing careers in areas such as informatics, health policy, education, and hospital administration. Younger nurses are more likely to change jobs within a year of graduation, leading organizations to offer higher wages and better benefits. In fact, the average annual salary for a registered nurse in the United States is now $69,000. This younger generation of registered nurses is also more likely to choose to earn graduate degrees to become nurse practitioners, certified nurse midwives, nurse anesthetists, or clinical nurse specialists.
"Non-Nurse" Nurse Practitioners
An emerging trend in the field of nursing is the rise of the colloquially termed, "non-nurse" nurse practitioner. "Non-nurse" nurse practitioners are those individuals who became a nurse practitioner without previously working as a nurse
Some of these individuals major in nursing as an undergraduate and then attend nurse practitioner school immediately upon graduation. Other individuals earn a bachelor's degree in something other than nursing and then apply to an accelerated nurse practitioner program. Designed similarly to medical school, accelerated nurse practitioner programs accept students from a variety of backgrounds. Typically applicants have completed certain prerequisite science courses and have passed a national standardized exam. Students entering accelerated programs possess a strong academic record and a non-nursing bachelor's degree.
Published research on this topic is scarce; however, a 2005 study by Dr. Ellen Rich, a family nurse practitioner, found that there was a statistically significant negative correlation between years of experience as a registered and clinical competence as a nurse practitioner as perceived by the nurse practitioner's collaborating physician. Simply put, physicians viewed "non-nurse" nurse practitioners as more clinically proficient than those with registered nursing experience. More research needs to be conducted in this area before broader generalizations can be made.
Doctor of Nursing Practice
The growth of the Doctor of Nursing Practice (DNP) degree has exceeded everyone's expectations. In 2001, the Institute of Medicine declared that in order to ensure patient welfare and meet the demands of modern medicine, healthcare providers' education must be reformed. In response, the American Association of Colleges of Nursing (AACN) developed the DNP degree and identified it as the terminal degree for advanced practice nurses.
The University of Kentucky College of Nursing started the first DNP program in 2001, which focused on educating clinical executives. Today, there are currently 125 accredited DNP programs across the United States. In 2014, there was a total of 18,352 students enrolled in DNP programs. According to the AACN, DNP programs are now available in 48 states plus the District of Columbia. Today, DNP graduates are filling a variety of roles including primary care provider, specialist clinician, research scientist, advocate, professor, informaticist, lobbyist, and executive.
Increased Autonomy
As early as the 1980s, Alaska, New Hampshire, Oregon, and Washington were the first states to adopt more progressive legislation surrounding nurse practitioner rights. Other, largely rural states followed suit in the 1990s. Since the passage of the Affordable Care Act, however, the number of states implementing progressive legislation has exploded. Currently, 21 states and the District of Columbia allow nurse practitioners to practice without physician oversight, and this number is growing every year.
Despite objections from the physician community, the Institute of Medicine, Robert Wood Johnson Foundation, and Federal Trade Commission (among others) support legislation that allows nurse practitioners to practice independently. Independent practice has certainly reached what Malcolm Gladwell termed a tipping point, with more and more state legislatures removing the out-of-date laws that prevent patients from receiving services from nurse practitioners.
Skyrocketing Salaries
Over the past decade, nurse practitioner salaries have risen much faster than inflation and they have, for the first time, surpassed their physician assistant colleagues. In 2015, the American Association of Nurse Practitioners (AANP) published their fourth iteration of the National Nurse Practitioner Compensation Survey, which includes salary and employment benefits data on nurse practitioners across all specialties and practice settings in the United States.
Since 2011, salaries are up 10% with the average total income for all nurse practitioners reaching $108,643. Overall, average income varied by clinical specialty and practice setting. Psychiatric nurse practitioners earned the highest average annual income at $132,115 followed closely by neonatal nurse practitioners who earned $123,041. Women's health nurse practitioners earned the lowest average annual income at $101,787. Those nurse practitioners who practiced in an emergency room setting also earned an average of $122,000 followed by those working at a psychiatric hospital who earned an average of $119,000.
The full 2015 National Nurse Practitioner Compensation Survey report is free for AANP members, who can access it on the AANP website by clicking here. Non-members can purchase the report in the online AANP research store for $50.00.
Faculty Shortages
In March 2015, the AACN published an update on the scope of the nursing faculty shortage. Faculty shortages at nurse practitioner schools across the country are limiting student capacity while the demand for advanced practice nurses continues to rise. In 2015 alone, 13,444 qualified applicants were turned away due to an insufficient number of faculty. The national nurse faculty vacancy rate is 6.9% with 1,236 open positions.
This crisis continues to grow due to college budget constraints, an aging faculty, and job competition from clinical sites. A wave of faculty retirement is impending with up to 300 doctorally-prepared nurse faculty eligible for retirement in the next few years. Recruiting nurse practitioner faculty is also difficult when the average income for a nurse practitioner in a clinical setting is $108,643 compared to the average faculty salary of $73,633. The minimize the impact of the shortage, the AACN continues to seek federal funding for faculty development programs and focus media attention on this important issue.
High Job Demand
The demand for nurse practitioner jobs continues to soar. In 2015, the United States Bureau of Labor Statistics projected a 31% growth rate for the nurse practitioner profession compared with the average of 11% for all other careers. According to Fortune Magazine, nursing remained the most in-demand profession across the United States this year, and nurse practitioner was ranked the second best job in America by U.S. News and World Report. Also, in their most recent annual report, Merritt Hawkins found that nurse practitioner was the fifth most in-demand medical specialty, whereas three years ago they weren't even in the top 20. According to this study, demand for nurse practitioners has increased by 320% over the past three years.
Healthcare Reform
Integrated Care
In 2015, great strides were made in integrating primary care and psychiatric care. The passage of both the Mental Health Parity and Addiction Equity Act and the Affordable Care Act created the "perfect storm" to facilitate integration. These new payment models reward healthcare providers for improving patient outcomes while reducing overall costs and research demonstrates that integrating care can do just this. In fact, a 2012 Cochrane Systematic Review found better outcomes and reduced costs in the integrated treatment of both anxiety and depression.
The U.S. Department of Health and Human Services established the AHRQ Academy, a group whose goal it is to improve the effectiveness and accelerate the pace of integrating primary care and mental health care. Other state organization popped up over the past year with a similar goal including the University of Washington AIMS Center and the California-based Integrated Healthcare Association. In the coming years, integrated care will most certainly become the norm
Empowered Patients
In their 2001 landmark publication, Crossing the Quality Chasm, the Institute of Medicine famously stated, "Healthcare harms patients too frequently and routinely fails to deliver its potential benefits. Indeed, between the healthcare that we now have and the health care that we could have lies not just a gap, but a chasm." They called for a new health system, one that was wholly redefined as patient-centric. Since this seminal report, the healthcare stakeholders are no longer physicians or chief executives, they are patients. Organizations are more attuned to providing respectful care that is responsive to individual patient preferences and values, and patients are more in control of their own clinical decisions.
Now, patients can use the Internet to compare hospitals against one another and select the one with the best clinical outcomes, safety scores, and competitive costs. Also in 2015, a national non-profit watchdog called The Leapfrog Group began to advocate for transparency in quality and safety of care in United States hospitals. They publish a Hospital Safety Score that assigns every hospital a grade A through F based on how safe they keep their patients from medical errors, injuries, accidents, and infection. Patients are actively seeking this information and choosing their healthcare facilities and healthcare providers wisely. The informed patient has become an empowered patient
Wellness & Employee Health
As insurance payers and large organizations seek to mitigate health care costs under the Affordable Care Act, they have begun to invest in corporate wellness programs. Although similar wellness programs have existed for decades, they are just now beginning to gather considerable traction. Companies are now offering their employees free gym memberships, massages, mid-day yoga breaks, free health screenings, smoking cessation classes, and weight loss resources.
A 2014 survey by insurance benefits consultant Mercer found that 56% of employers who offer wellness programs also offer financial incentives to participate and 23% connect their programs to health outcomes. Another 2015 survey by Fidelity Investments found that corporations are spending an average of $693 per employee each year on wellness benefits compared with only $430 in 2010. A look back at 2015 suggests that these wellness programs will continue to expand in 2016.
Bundled Payments
In 2015, the Centers for Medicare and Medicare Services announced a slew of payment reform models including their proposal to mandate bundled payments for total hip and total knee replacement in 75 different geographic areas across the country. Titled "The Comprehensive Care for Joint Replacement Model," this proposal aims to support better and more efficient joint replacement surgeries while reducing overall costs
This proposal shocked a few groups in the medical community because it is the first time that the concept of bundled payments would become a requirement as opposed to voluntary. In context, this decision by CMS makes sense because it aligns with their pledge to shift 50% of Medicare reimbursement to alternate payment models by 2018. As 2016 progresses, keep an eye on the outcomes of this proposal and anticipate more unique payment models down the road.
ICD-10
The United States finally implemented the International Classification of Diseases, 10th Edition (ICD-10) on October 1, 2015, becoming the last modern healthcare system in the world to adopt this more effective coding system. Developed by the World Health Organization (WHO) in 1992, ICD-10 outlines a coding system that classifies diseases and other health problems in order to accurately store and retrieve diagnostic information. Precise coding enables analysis of epidemiological data, which can be used to paint a picture of the overall health of a specific geographic region or patient population.
The American Health Information Management Association (AHIMA) has been a long-time advocate for ICD-10 implementation. AHIMA summarizes the 3 key benefits of transitioning to this new and improved coding system: (1) greater specificity of data reporting, (2) increased coding accuracy, and (3) seamless reporting across international borders. Although the transition from ICD-9 to ICD-10 will not be simple, the benefits to quality improvement, public health, information technology, and organizational management cannot be understated.
Greater Accountability
Along with healthcare reform has come an era of "accountable care." Hospitals are being held accountable for their patient outcomes and some are forming Accountable Care Organizations. Hospitals are now required to demonstrate to the public exactly how and how well they are implementing evidence-based practices. They must report certain metrics to the federal government, which are then reported to the public. Examples of these metrics include per capita Medicare beneficiary cost, risk-adjusted mortality rates, and risk-adjusted readmission rates. This data is available on www.Data.Medicare.gov.
Overtime, CMS is becoming more and more strict regarding the delivery of accountable care. To receive CMS reimbursements, hospitals must report specific quality measures through the Physician Quality Reporting System. These metrics assess the quality of care provided by eligible professionals such as nurse practitioners and physicians. Those organizations who do not meet CMS's criteria are subject to reimbursement reductions. In the upcoming years, CMS is increasing the penalties and holding hospitals more accountable for delivering high-quality care.
Population Health
Population health is defined as the health outcomes within a specific group of individuals. These groups are usually geographic populations such as countries or communities but they may also be ethnic groups. The goal of population health initiatives is to understand the unique needs of a group and create targeted interventions to address these needs. As the United States healthcare system transitions from a fee-for-service model to a value-based model, population health initiatives have taken center stage
In 2015, Heron Healthcare published a report examining the evolving trends in population health collaboratives. Heron predicts that over the next year, healthcare organizations will begin to focus on population health management as a means to mitigate escalating costs. In 2015, only 46% of insurance payers invested in population health, where as experts predict that this number will rise to 86% in 2016. Technology companies like Caradigm are also jumping on the bandwagon by developing sophisticated data analytics tools to stratify populations into high-risk groups so that organizations can effectively allocate resources.
Medical Technology
Electronic Medical Records
By December 2015, the electronic medical record (EMR) market was estimated to be worth $23 billion with over 400 unique vendors. While top earning EMR companies may be happy, clinicians are not. Over the past few years, clinicians and hospital leaders have expressed concerns over the challenges with usability, productivity levels, interference with patient face time, and interoperability.
In 2016, the EMR market players may begin to shrink. As smaller medical practices are acquired by or become affiliated with larger healthcare systems, those practices will adapt the larger organization's EMR. This consolidation of healthcare groups will eventually squeeze out smaller EMR vendors, and the market will lean more towards the EMR giants like Epic and Cerner. Also in 2016, more EMR companies are likely to move their software to the cloud and make it mobile device friendly to meet clinician demands.
Mobile Health
Mobile health, commonly abbreviated mHealth, is a rising trend in health technology. Sometimes called connected health, it is defined as the generation, aggregation, and dissemination of health information via mobile devices. In 2014, the global mobile health market was valued at $10.5 billion and Allied Market Research expects a 33.5% growth in this industry by 2020. Currently, blood pressure, blood glucose, and cardiac monitors hold the largest share of the mobile health device market. Leading companies in this space include Philips Healthcare, Bayer HealthCare, and Sanofi.
Other trends in the mobile health market include an explosion of helpful smartphone apps. Health and fitness apps actually grew 87% faster than the overall app industry in 2014. This growth has attracted major technology companies like Apple and Google to introduce their own mobile health products.
The Cloud
In a 2014 HIMSS survey, 83% of healthcare executives states that they are currently using cloud services for hosting clinical information, human resources applications, and disaster recovery. Generally, cloud-based platforms in healthcare reduce costs by limiting the number of servers a hospital needs to purchase and increasing collaboration by allowing clinicians to access important software regardless of their location or device.
Data storage is a huge challenge for the healthcare industry. Currently, 30% of the world's computer capacity is used to archive medical images including x-rays, CT scans, and angiograms. A health care systems need for storage capacity is exponential, as they must maintain a patient's data throughout their entire lives. It has become unreasonable for a hospital to maintain their own servers, so they are now turning to cloud-storage such as Microsoft Azure.
Also, as mentioned earlier, some EMR systems are becoming entirely cloud-based, including CareCloud, athenahealth, Practice Fusion, and iCare. Cloud-based EMR systems exemplify the benefits of the cloud by reducing the number of needed on-site servers and increasing clinician access to information wherever and whenever they need it (so long as they have access to the Internet).
Telemedicine
Due to increased public access to the WiFi, faster Internet speeds, and a culture of connectivity, telemedicine is another booming industry in healthcare technology. Research demonstrates that telemedicine is safe and cost effective. Currently, psychiatry is the largest medical specialty utilizing these technologies. Telepsychiatry improves access to care to underserved and isolated populations and it reduces the stigma of mental health care. A noteworthy study by DeLeo, Buono, and Dwyer found a robust decline in suicide rates among isolated populations who had access to video-based psychiatric services.
Innovative telemedicine companies are popping up all over the place. Companies like PointNurse offer on-demand urgent care services that connect patients with nurse practitioners through their smartphones. Retail clinics such as ZoomCare are joining the telemedicine trend by providing convenient care video visits with nurse practitioners for only $35. And, companies like Talkspace connect patients to psychotherapists through text messaging.
Ingestibles, Implantables, & Sensors
In 2014 and 2015 health technology wearables dominated the headlines, but this year look out for more talk about ingestibles, implantables, and sensors. Google recently announced their smart contact lenses that can monitors a wearer's blood sugar levels in real time. World-renowned innovation firm Artefact recently prototyped a flexible, form-fitting sensor that sticks to a patient's skin and monitors biometric data during a seizure.
In September 2015, the FDA accepted the first drug-device combination: pharmaceutical company Otsuka and digital health company Proteus teamed up to combine a medication tablet with an ingestible sensor that measures medication-taking patterns and physiological response. This information is transmitted to the patient and with his or her consent to the nurse practitioner. 2016 is sure to bring more innovative products like this digital medication.
Decision Support
Named after their first CEO, IMB's Watson is a highly intelligent computer capable of answering complex questions using natural language processing. Watson is most famous for winning the game of Jeopardy! and defeating two former human champions Brad Rutter and Ken Jennings. In early 2013, IBM announced that Watson is partnering with Memorial Sloan Kettering to now tackle lung cancer diagnosis and treatment. Termed "Watson for Oncology," this computer now analyzes a patient's medical information against large sets of data and can diagnose cancer with 90% accuracy, compared with a human's 50% accuracy.
The future for Watson Health is bright. Just recently, IBM acquired Merge Healthcare, a leading provider of medical image handling and processing. IBM announced they are teaching Watson to "see" medical images using image analytics tools and cognitive computing. Basically, Watson will be analyzing medical images while cross-referencing them with more information than a human could ever comprehend. Watson will them establish a diagnosis and provide a treatment recommendation. In 2016, Watson will continue to define the future of healthcare.
The Internet of Things
The Internet of Things as it relates to healthcare attracted a lot of attention in 2015 when Market Research published a report predicting that this industry would be worth $117 billion by 2020. The Internet of Things, sometimes abbreviated IoT, refers to having all objects connected and collecting data. The value of IoT comes from relationships between all things and the data created by them.
The Internet of Things allows nurse practitioners to send their patient's home to recover while still monitoring their health status from a distance using products such as BodyGuardian Remote Monitoring System. Hospital systems are developing intelligent medication systems by connecting their pharmacy carousel, anesthesia workstations, medication dispensing cabinets, barcode readers, and label printers to make sure medications are always where they should be when clinicians need them without any human thought or intervention. Microsoft has called this "a healthy dose of data."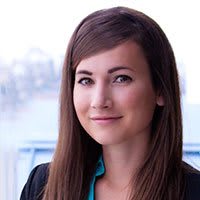 Dr. Melissa DeCapua, DNP, PMHNP-BC
Author
Melissa DeCapua is a board-certified psychiatric nurse practitioner who graduated from Vanderbilt University. She has a background in child and adolescent psychiatry as well as psychosomatic medicine. Uniquely, she also possesses a bachelor's degree in studio arts, which she uses to enhance patient care, promote the nursing profession, and solve complex problems. Melissa currently works as the Healthcare Strategist at a Seattle-based health information technology company where she guides product development by combining her clinical background and creative thinking. She is a strong advocate for empowering nurses, and she fiercely believes that nurses should play a pivotal role in shaping modern health care. For more about Melissa, check out her blog www.melissadecapua.com and follow her on Twitter @melissadecapua.
Many students prefer online nursing schools and programs, which offer learners considerably more flexibility and autonomy than traditional, on-campus programs. This list outlines some of the best online nursing programs.
Do you want to fast-track your path to becoming a nurse practitioner? Here are the best accelerated nurse practitioner programs you can find online.
Nursing is riddled with various roles, career paths, and backgrounds. There is no one way to become a nurse, and there are so many different kinds of these invaluable healthcare...
Take care of your future.
Find the right program for you and advance your education with an online degree.