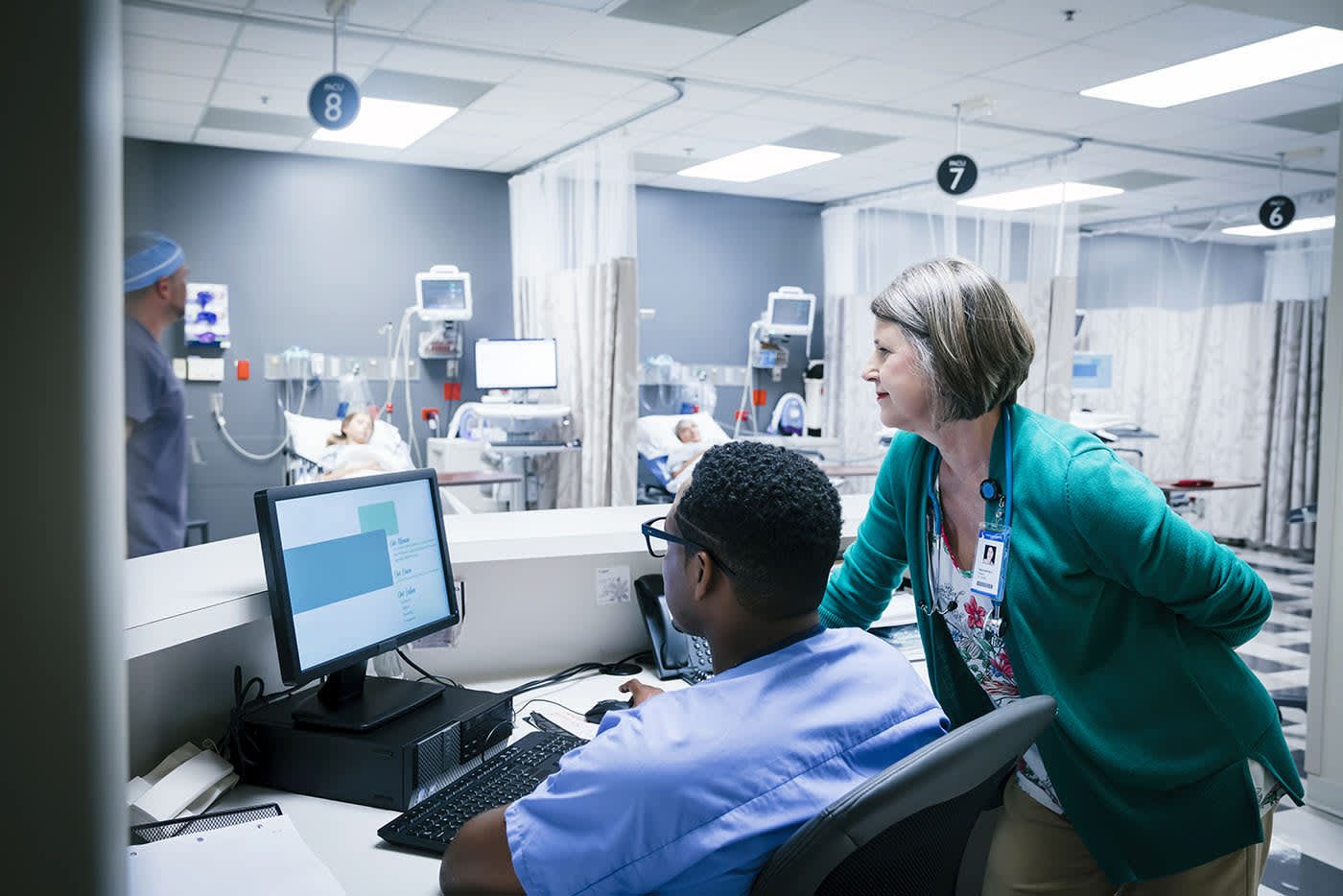 ER NP Programs
It is estimated that over the past decade the number of emergency room visits have increased by 20 percent, according to the Vanderbilt University School of Nursing. Many people who head to ER may, in fact, have primary care needs, necessitating healthcare professionals working in the ER to have a broad range of skills, including in primary care. To help meet this need, hospitals may make use of emergency nurse practitioners (ENPs) and other health care professionals who have advanced skills. One reason for this is that emergency room nurse practitioners made about $90,000 a year on average (as of 2011) compared with emergency room physicians that can earn $250,000 annually, according to Healthcare Finance News. For NPs, it may not be much of a jump to working in an ER or other facility. After all, nurses have an average 10 years of experience before deciding to pursue the education necessary to become and advanced practice registered nurse (APRN), such as an ENP.
If you think you would like the excitement that comes with providing emergency care, but don't want to make the commitment to becoming a physician, a career as an emergency nurse practitioner may be for you. What will you do in the ER? Vanderbilt University, in Tennessee, reports that ENPs treat ER patients across various stages of the life span who come to the ER for treatment of:
Acute and critical illnesses
Accidental injuries or traumas
Urgent primary care needs
Typically, a master's of science in nursing (MSN) degree focused in emergency care is needed, but you may also be able to complete a post-master's certificate in emergency care, if you already have a nursing master's degree, or even work toward your doctor of nursing practice (DNP), which the American Association of Colleges of Nursing (AACN) recommends as the new standard of training by 2015 for all advanced practice registered nurses (APRNs), including NPs.
Featured Online Programs
Find a program that meets your affordability, flexibility, and education needs through an accredited, online school.
Emergency Nurse Practitioner Programs Prerequisites and Specializations
Typically, to be accepted into one of the emergency nurse practitioner schools, you will already need to be licensed as a registered nurse (RN). However, some schools may grant you acceptance as long as you meet necessary prerequisites for admission, most often by completing a certain number of classes in the natural sciences. Generally, to be granted admission into a programs, nurses need to have good undergraduate grades in nursing, often a 3.0 GPA. Common requirements for admission could also include a minimum score on the Graduate Record Examination (GRE), completion of an undergraduate statistics course (seeing how data and analytics is becoming so important in healthcare) and letters of recommendation. For an emergency care program, students may also need to have clinical experience, possibly even in the ER.
Students should be aware that MSN degrees take longer to complete than degrees in other disciplines, which are often 30 to 36 credit hours. MSN degrees can take much longer, and are often 46 to 48 credits. Some MSN programs can be completed full-time in two to two and one-half years, but other programs will take longer if completed part-time. Post-certificate programs and DPNs will have different time frames.
Courses and Curriculum for Emergency Nurse Practitioner Programs
Unlike other nurse practitioner programs, there generally are not master's degree programs solely focused on emergency care. Often students complete programs with dual fields of study. For example, at Jacksonville University, in Florida, students complete a family nurse practitioner/emergency nurse practitioner degree. Vanderbilt University offers a dual family nurse practitioner/adult-gerontology acute care nurse practitioner program with an emergency care focus. The University of South Alabama provides a family nurse practitioner/adult-gerontological acute care dual degree with a specialization in advanced emergency nursing either through a BSN-to-DNP program or a post-graduate certificate to DNP. The University of Texas School of Nursing offers an emergency/trauma care program (ETC) that can be completed concurrently with any number of NP programs or the DNP or can be completed afterward as a post-master's certificate.
As you can see, there are a broad range of graduate-level options when it comes to emergency care nurse practitioner schools. However, in most programs you will need to learn advanced skills in fundamental areas, such as assessment, treatment and pharmacology. This will make up some of your core training. You'll also need to complete classes geared toward emergency care. Classes that could be found in your ENP program may include:
Concepts of Emergency Care
Emergency/Trauma Care
Strategic Resource Management in Health Care
Practicum in Emergency Care
One benefit of competing a dual NP degree is that you may be prepared to sit for more than one exam through the American Nurses Credentialing Center (ANCC). This could include the family NP certification, the adult-gerontology acute care NP certification or the emergency care NP certification depending on your training. Certification exams given through the ANCC are computer-based, expect for the one for ENP, in which skills are assessed using a portfolio. You may also be eligible to seek certification in adult-gerontology or family nurse practitioner care through the American Academy of Nurse Practitioners.
Accreditation
Most NP programs should be accredited either through the Accreditation Commission for Education in Nursing, Inc. (ACEN) or the Commission on Collegiate Nursing Education (CCNE). These organizations thoroughly look at the programming and education a nursing school offers to ensure they are up to par in providing quality instruction and in meeting other requirements before being granting accreditation. The following types of programs are accredited by these organizations:
ACEN: Accredits diplomas, certificates and degree-level programs. To find programs accredited by the ACEN look here.
CCNE: Accredits bachelor's degrees, graduate degrees and residency programs. To find programs accredited by the CCNE, look here.
The ACEN advocates for self-regulation and peer review in nursing programs and looks for a common core of standards in the programs it accredits. The CCNE encourages self-assessment through its accreditation process and supports ongoing improvement in nursing and residency programs.
Related Programs
Related FAQs
Want to enroll in a family nurse practitioner program, but not sure where to start? This list offers a comprehensive look at affordable online nurse practitioner programs.
Ever thought of becoming a psychiatric-mental health nurse practitioner? Here's a list of online psychiatric nurse practitioner programs for nurses considering this career.
Interested in a nurse practitioner career? Explore this guide to discover the steps to become an NP, including required education and credentials.
Take care of your future.
Find the right program for you and advance your education with an online degree.